Workshop "Quantum meets Classical Cryptography" (WP4 & WP6)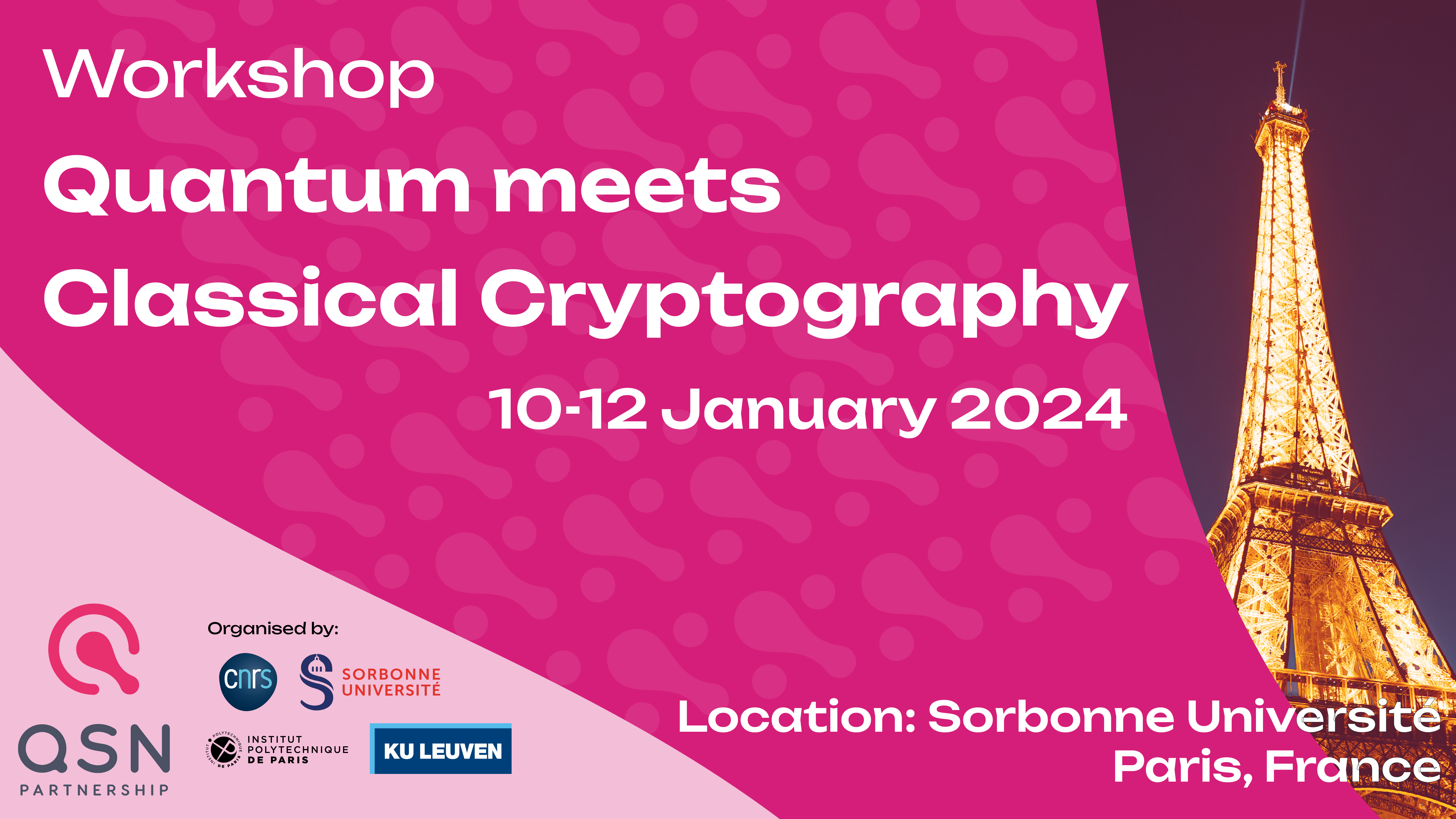 Wednesday 10th
Thursday 11th
Friday 12th
Wednesday 10th
Introduction, synthesis  of the work on the QSNP Roadmap on Classical and Quantum Cryptography.
Tutorial. 
Invited talks.
Poster session. 
Thursday 11th
Friday 12th
Confirmed speakers
The line up of speakers is still being curated, at the moment there are +14 confirmed speakers. The following list is preliminary. 
Bart Preneel | KU Leuven
Renato Renner | ETH Zürich
Zvika Brakerski | Weizmann Institute of Science
Anne Broadbent | University of Ottawa
Mathieu Bozzio | University of Vienna
Sebastian Ramacher | Austrian Institute of Technology
Paula Alonso | ICFO
Paolo Villoresi | University of Padova
Francesco Mazzoncini | Institut Polytechnique de Paris
Carlos Abellan | Quside
Jessy Clediere | CEA Leti
Ludovic Perret | Sorbonne University
Alex Grilo | CNRS, Sorbonne University
Mina Doosti | University of Edinburgh (TBC)
Grégoire Ribordy | IDQuantique
Vicente Martín | Universidad Politécnica de Madrid
Jean-Charles Faugère | Cryptonext 
Registration
The workshop will take place January 10th-12th, 2022 in Paris, France – in person. Coffee breaks are included during the day (morning and afternoon). 
The main program will consist of invited talks. Regular participants may present a poster, depending on available time in the final program. 
Participation is free of charge, but the total number of participants will be limited.
Registration for this workshop is closed. 
Registration deadline: 15 November 2023  1 December 2023
Event details
Venue:
Sorbonne Université
Pierre and Marie Curie Campus, 4 place Jussieu, 75005, Paris, France. 
Date: 10, 11 & 12 January 2024
Contact information
Should you have any questions regarding the workshop, feel free to get in touch with any of the organisers: